What does the future hold?
What are the most important enabling conditions for the scaling of regenerative agriculture so that companies hit their 2030 targets and regenerative agriculture becomes mainstream?
Over the past few years, a "Scale Lab" of food company leaders addressed this question by sharing their own insights and challenges, supplemented by input from people across the field. Results are captured in downloadable slide decks and summarized in three scenario stories of what might happen over the next 5-10 years.
Story One is about achieving regenerative agriculture. From social science literature we hypothesize that if 30 percent of farmers adopt regenerative farming systems, most others will come along. We already see many mile-markers reached. For example, field days to demonstrate cover crops and minimum tillage, that used to attract dozens of farmers, now attract hundreds.
Leading farmers and agronomists are learning more and more about the health of farming systems and how to maintain yields in volatile weather. Business and government leaders who used to have to look up the word regenerative in a dictionary now include it in their organizational goals. Most leading players understand that farmer support rests on a three-legged stool of financial incentives, technical support, and cultural resonance.
But business-as-usual is commercially resilient. Farmers respond to market demand: corn and soybeans from the US Midwest, wheat and canola from the Canadian prairies, and so forth. And these technologically sophisticated production systems, with farmers specializing in 1-3 enterprises, are extremely productive, providing low-cost commodities for many uses.
To achieve regenerative agriculture at scale, each region would need more diverse crops and more collaborative attention to biodiversity across the landscape. But this transition is impossible without a reshuffling of markets, policies, corporate accounting requirements, and the support infrastructure that surrounds farmers.
Three possible futures will hinge upon the ability of organizations to navigate this uncertain terrain.
Download Full Report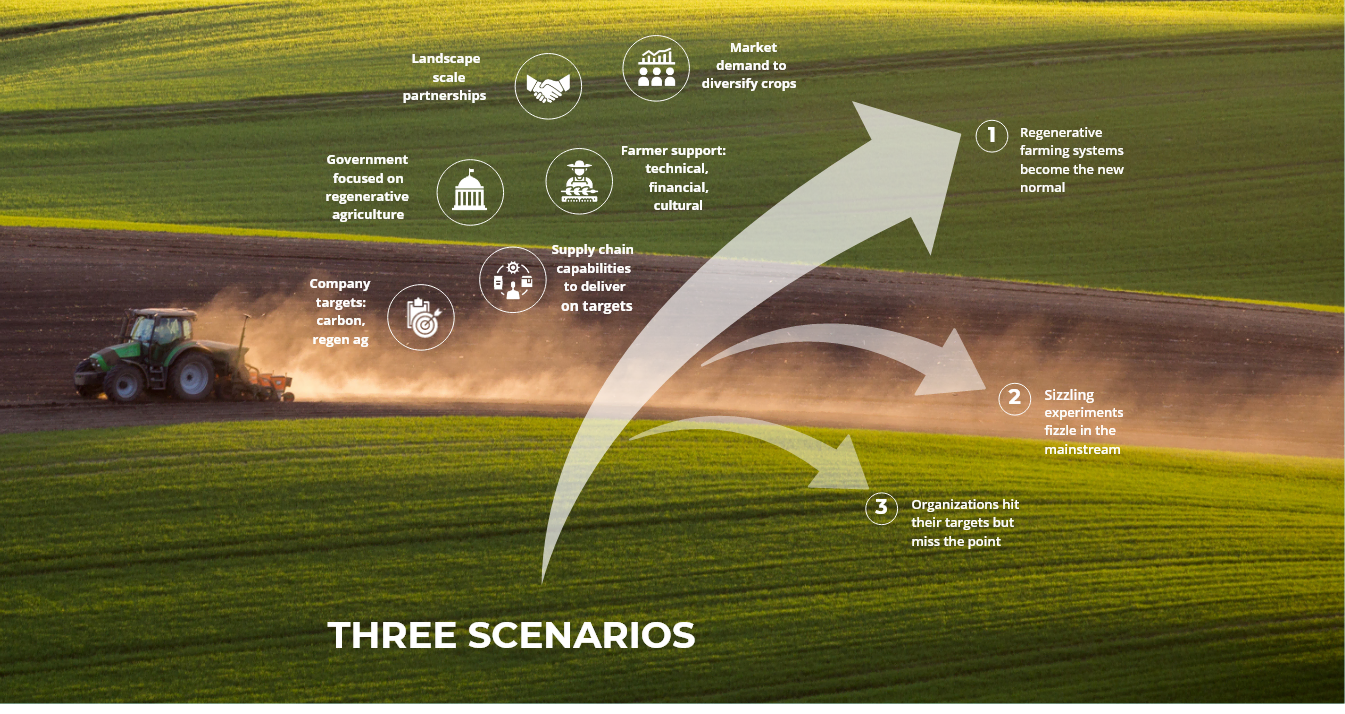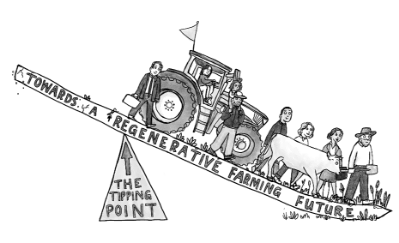 Story 1
Regenerative farming systems become the new normal.
Markets, policies, and science enable a 30 percent farmer adoption of regenerative agriculture, then quickly growing to the majority. Key players are all-in, including universities, NRCS, Cooperative Extension, conservation districts, crop advisors, farmer networks, and lenders. Downstream companies, including feed and fuel manufacturers, are all investing in the resilience of farming regions. Accounting protocols incentivize collective impact across landscapes. Procurement organizations in each company embed regenerative agriculture goals into their targets. Farmers adopt more complex rotations and soil health practices. Agricultural yields are much better in drought or flood years. Farmer net incomes rise as input costs diminish.
Story 2
Sizzling experiments fizzle.
Some NGOs and early-mover companies achieve considerable public interest in regenerative agriculture. The most innovative farmers become media stars, but most mainstream farmers feel left out and unrewarded. Climate risks to food production rise because most of agriculture in each region remains dedicated to specialized commodities.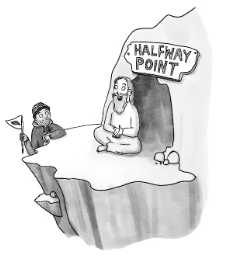 Story 3
Organizations hit targets but miss the point.
Some carbon targets are hit, especially by consumer-facing food companies with products that have healthy margins. Most companies remain locked-in to short-term financial goals at the expense of longer-term value. Landscape initiatives founder because of the inability to count and claim credit, a lack of resources, and inadequate collaboration capabilities in farming regions.
Scale Lab 2023 Full Report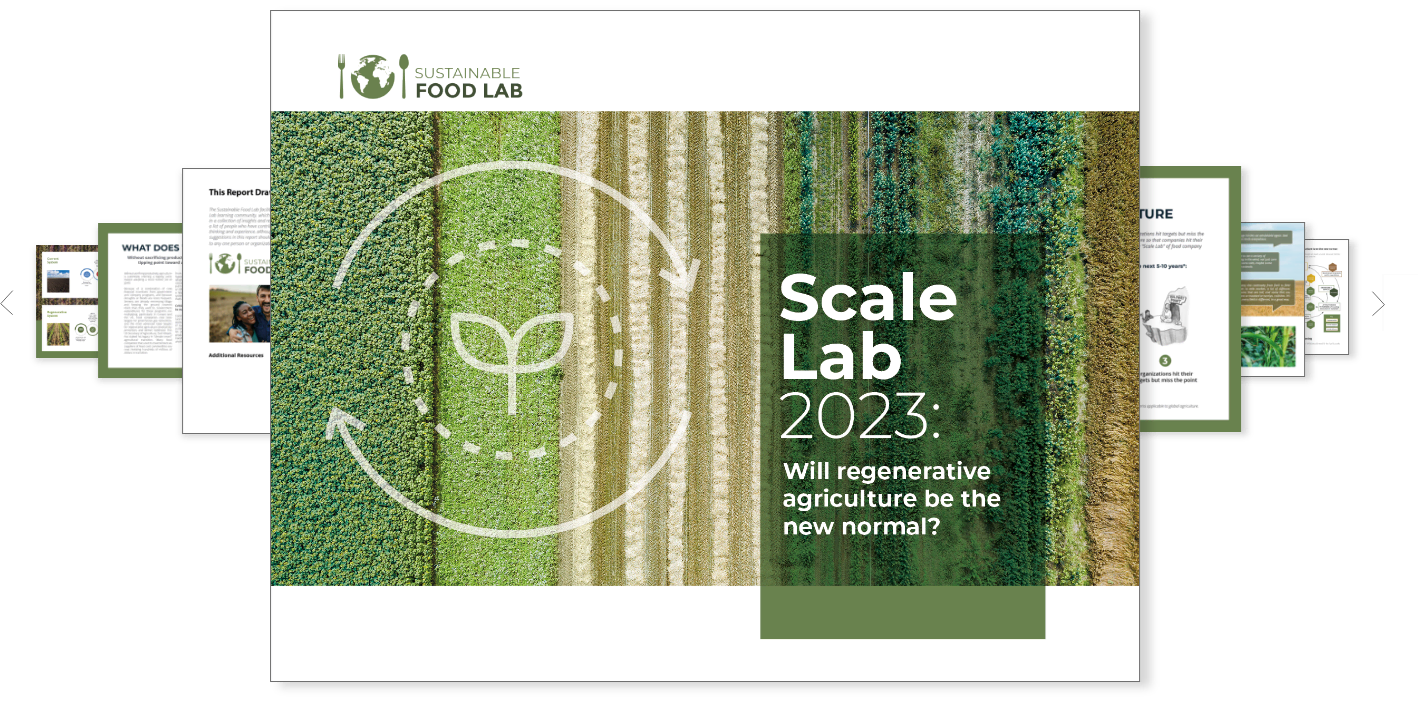 DOWNLOAD FULL REPORT
Additional Resources
As the Scale Lab core team talked through building blocks to support regernative farming, they dove into the following topics, which resulted in the following in-depth downloadable decks.
If you'd like these decks in PowerPoint so you can grab slides for training or talks, feel free to contact Elizabeth Reaves.
Scale Lab v2
This report and accompanying resources are products of Scale Lab v2. These are not the result of consensus, but they are anchored in what the most advanced organizations are doing, and the next series of challenges. Nobody beyond Sustainable Food Lab staff is responsible for anything that seems objectionable.
We've also crafted a series of thought-provoking blogs about Scale Lab v2's work and desired outcomes.
Future Conversations

Future Scale Lab conversations will focus on impacts for whole farms and farming regions that are difficult to achieve by supply chain projects alone, including landscape scale collaborations, crop diversification, and continued evolution of accounting guidance.
Making a Difference
The "Scale Lab" is a group of people convened by the Sustainable Food Lab and drawn mainly from food and beverage companies. Sustainable Food Lab staff also interviewed other opinion leaders. The goal of our work is to upgrade strategies that make a difference.
Below is a list of people who have contributed their thinking and experience, although no specific suggestions in this report should be attributed to any one person or organization.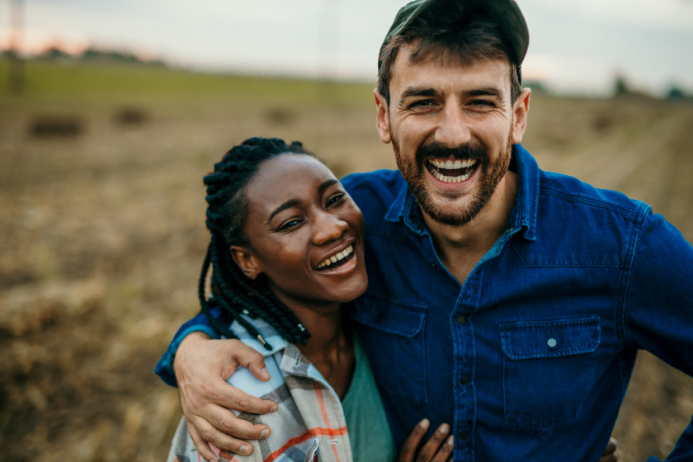 Nick Mylet, AB InBev, Global Director Sustainable Agriculture
John Rogers, Anheuser-Busch US, Chief Sustainability and Procurement Officer
Drew Felz, General Mills, Government Affairs Representative
Steve Rosenzweig, General Mills, Agriculture Science Lead
Brian Nash, Ingredion, Vice President, Corporate Sustainability 
Andrew Utterback, Ingredion, Senior Manager, Sustainability
Michael Daniels, Kellogg, Senior Director, Federal Government Relations
Emily O'Halloran, Kellogg, Responsible Sourcing Lead, North America
Autumn Fox, Mars Inc., Senior Manager, Climate Sustainability 
Rachel Goldstein, Mars Inc., North America Policy Director 
Jeremy Wilson-Simerman, McDonalds, Manager, U.S. Government Relations
Sarah Fletcher, Oatly US, Communications and Public Affairs Director
Julie Kunen, Oatly, Director of Sustainability, North America 
Stacy Cushenberry, Oatly NA, Food Systems Program Manager 
Margaret Henry, PepsiCo, Senior Director, Sustainable Agriculture
Maeve Anderson, PepsiCo US, Regenerative Agriculture Partnerships Manager
Andre Eitner, PepsiCo, Senior Manager, Regenerative Agriculture – Climate & Europe
Alicia LaPorte, Perdue-Niman Ranch, Communications Director 
Nichole Embertson, Starbucks Program Manager, Environmental Stewardship
Dana Bourne, Stonyfield/Lactalis, Sustainable Agriculture Manager
Britt Lundgren, Stonyfield/Lactalis, Senior Director of Sustainability and Government Affairs
Erica Johnson Creamer, Walmart, Senior Director, Federal Government Affairs
Jim Moseley, Indiana Farmer, Co-Chair AGree, former Deputy Secretary USDA
Fred Yoder, Ohio Farmer, Co-Chair, Solutions from the Land, Chair, North American Climate Smart Agriculture
Brian Hora, Iowa Farmer
Ray Gaesser, Iowa Farmer, North American Climate Smart Agriculture
Mitch Hora, Iowa Farmer and founder of Continuum Ag 
Jasmine Courville, Chairperson, Tribal Pesticide Program Council and Confederated Salish and Kootenai Tribes
Simone Schenkel, Environmental Defense Fund Manage;
Ariel Kagan, Minnesota Farmers Union, Climate and Working Lands Program Director
Kris Johnson, The Nature Conservancy, Director of Agricultur; 
Hannah Birge, The Nature Conservancy, Senior Scientist
Sarah Carlson, Practical Farmers of IA, Senior Programs and Membership Director
Alex Cordova, USDA, Community Outreach Specialist
Gloria D Montaño, USDA, Deputy Undersecretary, Farm Production and Conservation (FPAC)
Mae Wu, USDA, Deputy Undersecretary, Marketing and Regulatory Programs (MRP)
Dr. Karama Neal, USDA, Administrator, Rural Business Cooperative Service
Kari Cohen, USDA, Projects Branch Chief, NRCS
And a special thank you for the generous support of the Walton Family Foundation for making the work of the Scale Lab possible. 
Sustainable Food Lab
Partner With Us
As a partner with Food Lab, you will be part of a network of global thought leaders from diverse organizations committed to making impactful changes in the food system.
Learn more