About the Impact Lab
No longer an active group, the Impact Lab was created in 2017 as a professional development opportunity for mid-career sustainability professionals working to address global agriculture and food system challenges.
The Impact Lab was facilitated by the Sustainable Food Lab and provided a confidential space for peer-to-peer sharing, capacity building, expert coaching and exploration of potential partnerships. Fellows were provided with opportunities to engage in workshops, multi-day learning journeys, monthly peer group calls and one-on-one mentoring.
Fellows came from organizations like PepsiCo, Handsome Brook Farms, Unilever, Niman Ranch, Starbucks, Target, AB InBev, Stonyfield Organic, General Mills, Environmental Initiative, Impossible Foods, MARS, Oatly, Farmer's Fridge, Costco, Rich Products Corporation, Keurig Dr. Pepper Inc. and Cargill.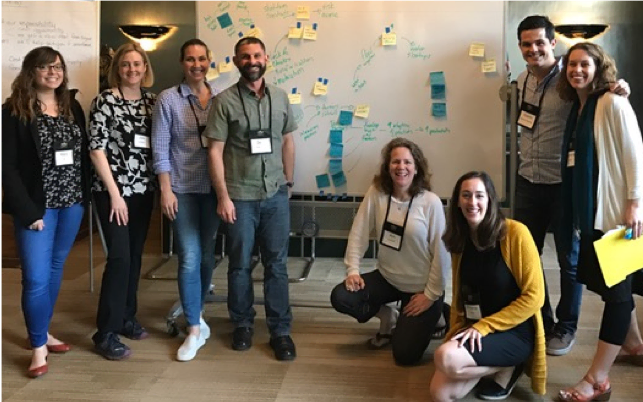 ---
Unique Value
The Impact Lab provided a unique community and structure for professionals to grow and make real impact within their organization and industry. It focused on building capacity and creating system leaders in these areas:
Personal Leadership: Fellows learned to manage teams through conflict, bridge cultures and create engagement while navigating short-term business pressures.
Strategic Engagement: Fellows learned to engage key people in other functions, lead in industry and create collaborations that scale impacts.
Impact Delivery: Fellows learned to balance quick wins and game changers, generate measurable impacts, make the business case for farmers and suppliers and mobilize resources.
---
Mentoring & Events
The Impact Lab provided a variety of ways to engage including in-person events, peer phone calls and one-on-one mentoring. All activities were encouraged but not required.
In-Person Events
Workshops: Two annual workshops provided Fellows with opportunities to learn and practice system leadership skills. Fellows were given the opportunity to share personal stories and receive coaching and advice from peers and mentors.
Learning Journeys: Fellows were invited to attendee Learning Journeys hosted by the Sustainable Food Lab. Learning Journeys provided an opportunity for Fellows to expand their viewpoint about a specific farming system.
Remote Opportunities
Monthly Phone Calls: Fellows could join a small group of peers and Food Lab staff to discuss sticking points in their work, opportunities for pre-competitive collaboration or a variety of other topics.
One-on-One Mentoring: Food Lab staff, Academy for Systems Change staff and other mentors from the Food Lab community were available for one-on-one sessions throughout the year. Additionally, Fellows were encouraged to work with Food Lab staff to establish an Annual Personal Learning Reflection. This exercise allowed Fellows to reflect on areas of improvements and establish goals for the coming year.
Quarterly Newsletters and What's App Chit-chat: For fellows who were unable to commit to monthly phone calls, our quarterly newsletter and WhatsApp Group Chat allowed for Fellows and Food Lab staff to communicate about important information.